Do you feel like everything you plan just doesn't work out? Looking around and seeing so many people moving forward in life in so many levels but you feel like you're stuck in neutral? Do you sometimes feel like you pray, and pray, and pray and maybe God is not listening? Do you feel like He is punishing you for something you have done in the past? Do you feel spiritually dry?
We've been there and felt that way. The economy is so bad, so many people out of work, it can get a bit depressing. But looking back, I remember specific things we did to get out of this and move forward WITH God! Here is a recipe that worked for us. (DH was laid off 5 times in less than 4 years, so imagine).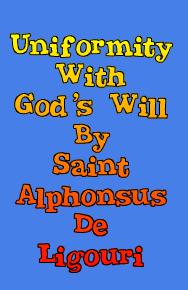 Click on picture above
to read this wonderful book!
1. Give all your worries and finances over to God. Trust the HE will provide for you, not you, not your DH.
2. Trust in God's will for you. Say, "I would love this Lord but I want your Will to be Done not mine." (I know this is easier said than done but trust me one you really do ask God for His will not yours, the graces start to fall because you trust the Lord.) The BEST thing that happened to me was coming across a book by Saint Alphonsus de Ligouri entitled, "Uniformity with God's Will." And if you click on the picture there >>> you have FREE access to the book :)
3. Go to Confession and Mass as often as possible.
4. Keep on praying even if you don't feel like it.
5. Get your kids to pray for your situation, teach them to say, "Lord let your will be done for our family." Pray the Rosary as a family.
6. If you can, have your home blessed at least once a year and have your home Consecrated to the Immaculate and Sacred Hearts.
7. Say the Old St. Joseph Novena daily until the perfect job comes.
Saint Joseph, I, your unworthy child, greet you. You are the faithful protector and intercessor of all who love and venerate you. You know that I have special confidence in you and that, after Jesus and Mary, I place all my hope of salvation in you, for you are especially powerful with God and will never abandon your faithful servants. Therefore I humbly invoke you and commend myself, with all who are dear to me and all that belong to me, to your intercession. I beg of you, by your love for Jesus and Mary, not to abandon me during life and to assist me at the hour of my death.

Glorious Saint Joseph, spouse of the Immaculate Virgin, obtain for me a pure, humble, charitable mind, and perfect resignation to the divine Will. Be my guide, my father, and my model through life that I may merit to die as you did in the arms of Jesus and Mary.

Loving Saint Joseph, faithful follower of Jesus Christ, I raise my heart to you to implore your powerful intercession in obtaining from the Divine Heart of Jesus all the graces necessary for my spiritual and temporal welfare, particularly the grace of a happy death, and the special grace I now implore:

(Mention your request & don't forget to ask for God's will to be done with your family!)

Guardian of the Word Incarnate, I feel confident that your prayers in my behalf will be graciously heard before the throne of God. Amen.
8. Don't be shy to ask family, friends, and even strangers for prayers. (SUPER IMPORTANT)
9. Be thankful for every. little. tiny. thing you have. I was even thankful we had running water, no kidding.
10. Accept the answer God gives you with grace and a smile on your face, sometimes the answer is NO, and not necessarily an unanswered prayer.